Find the perfect gift for your Koi lover or treat your koi to something special! This blog post will give you ideas for the best fish pond gifts for koi keepers and other pond lovers. Make your koi keeper happy this year, even if it is you!
Below are 10 ideas from our Kodama staff to help find the perfect koi present for men, women and all koi lovers in 2022. First we want to start by showing the new koi gear we have released to the website for holiday gifts!
NEW – Koi Novelty & Memorabilia Products Available!
Just released on Kodama Koi Supply are these high quality art prints of koi fish designs. Created by our talented staff, these are completely unique to Kodama and now available koi novelties for your home!
---
Kodama's Top 10 Koi Fish Gifts
1. Koi Keychains and Magnets

Decorate your fridge or keys with your favorite Koi! All of us have a favorite Koi variety we love to show off. You can get the set with your favorite or you can try to collect all of the varieties just like we do in our ponds.
Each set comes in a set of 3, you can get magnets or the keychains. $15.00
Varieties in set 1 are Shiro Utsuri, Ogon, Tancho Kohaku
Varieties in the set 2 are Showa, Kohaku and Sanke
Koi Replica Key Chain (Shiro Utsuri, Ogon, Tancho)
$

20.00
Add a cute koi to your keys, backpack, or purse. Included in this set are a: Shiro Utsuri, Ogon, and Tancho Kohaku. These are:

Approximately 2.5 inches long
Hand made
Hand colored
Good for gift and decoration
Actual color and pattern might be different from picture
3pcs per box

pattern might be different from picture

3pcs per box
In stock
2. Kokugyo Books
Our Founder Mamoru started this company with his thirst for knowledge and want to educate people about how amazing Koi are. He then went on to teach about koi at different universities and continues to teach and share knowledge with any one who wants to learn to this day.
Give the gift of Mamorus Kokugyo books to help your Koi Hobbyist expand their knowledge on different varieties, care and how champion Koi are made and chosen.
Volume 1 $100.00
Volume 2 $100.00
Volume 3 $350.00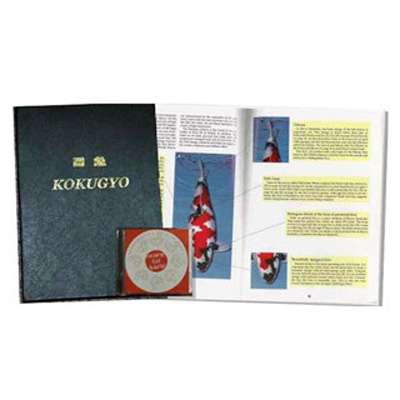 "Kokugyo 1" by Mamoru Kodama
$

100.00
Kokugyo 1 is recommended for all those eager to learn how to appreciate the true beauty of Koi.
This book and the accompanying media provide a detailed explanation of how to evaluate all the characteristics of each variety of Nishikigoi.
In stock
3. Koi Flag and Banners
Decorate your champion room with Koi flags and Banners, The banners give the area you keep your prizes and breeder certificates a classic Japanese look with these Koi Flags hanging on the wall, They are eye catching and a great conversation starter for our koi enthusiast.
Koi 3 Flag Set
$

95.00
Gosanke (Sanke, Kohaku, Showa)
45cm W × 148cm L (17.7″ W x 58.2″ L)
In stock
4. Koi Kitchen Towels
We all have hand towels in our house, step it up a notch and decorate with these koi design hand towels. This would make a perfect addition to any gift basket to add some art and color while also being very functional.
Koi Kitchen Towel
$

20.00
Multi-use Tea Towels.
Traditionally used for kitchen aesthetics and cleaning.
Add an aesthetic touch when enjoying your pond environment.
Carry with you when it comes to outdoor maintenance. 
Use as a hand or sweat towel.

5. Cedar Table Lamp
Made by a Japanese craftsman from aromatic Akita cedar, this table lamp has delicate openwork design that follows the wood's natural grain to show intricate koi designs; and the acrylic panels softens the light with Japanese kanji saying, "Swimming jewel koi".
Decorate in the style of traditional Japanese homes as well as making your house smell good. These lamps would brighten anyone's day and put them in a calming state just like we believe Koi do. Beauty and Tranquility for the person you care about.
Akita Cedar Table Lamp
$

790.00
Here's why premium Akita cedar is so well-known:
It is a famous light-yellow timber unique to the northern mountainsides of Akita prefecture in Japan.
The cold climate there with seasonal snows causes Akita cedars to grow slowly which results in beautiful, dense wood grain.
It has a spicy, pleasant fragrance and is used in traditional Japanese building materials and crafts and canoes because of its beauty and flexibility.
Made by a Japanese craftsman from aromatic Akita cedar, this table lamp has delicate openwork design that follows the wood's natural grain to show intricate koi designs.
Turn it on to shine a warm glow in your home and share your love of Japanese koi.
In stock
6. Koi Masks
Wearing masks is now just part of everyday life. Show off your love for koi with the Kodama Koi Face Mask. Finally a Koi Face Mask to help keep you and your loved ones safe through this pandemic.
Kodama Koi Face Mask
$

11.70
–
$

13.00
Show off your love of koi with the Kodama Koi Face Mask! Several color designs to choose and comes with FREE shipping!
These face masks are made from special fabric that is:
Washable for over 50 times
Stretchable and comfortable
Contains antibacterial and deodorant properties from silver ions
Breathable and wicks away moisture to fight odor and keep you cool
Certified as "SEK" from the Japan's Association of Fabric
Comes in size Medium. Made from polyester (92%) and spandex (8%).
7. Koi Calendar
Add more koi zen to your year with a special Kodama Koi Farm calendar featuring our gorgeous koi each month.
Each month is paired with a new beautiful photo of a unique Kodama koi
12 full months with holidays noted
Dimensions are 11″ width x 8.5″ height. When the calendar is opened, the height becomes 17″
Kodama Koi Farm Calendar
$

12.00
Add more koi zen to your year with this special Kodama Koi Farm calendar featuring our gorgeous high quality koi each month.
Out of stock
8. Koi Academy Videos
Learn from our experts first hand, the Kodama Koi Academy videos as well as some of our subject seminars (Koi Disease and Health, Water Quality) are a perfect addition to any books you would get a new Koi hobbyist looking to learn everything there is to know about Koi. Go into details about everything from how koi varieties were developed to how to keep the water in your pond healthy.
Koi Academy – Water Quality Seminar
$

10.00
Taro Kodama will explain how to keep healthy koi and mitigate disease in this webinar from our Koi Academy video series.
In this educational seminar, we will cover:
1. Understanding the 3 main causes of koi sickness
2. Types of pathogens (disease causing microorganism)
3. How to treat sick koi and save others
4. Checkpoints of koi behavior and pond management
5. How to prevent koi diseases
Purchasing this product will give you the full video of Koi Disease Seminar in the Kodama Koi Academy on this page.
In stock
9. T-Shirts
Unisex Jersey Short Sleeve Tee
$

25.95
–
$

33.12
This classic unisex jersey short sleeve tee fits like a well-loved favorite. Soft cotton and quality print make users fall in love with it over and over again. These t-shirts have-ribbed knit collars to bolster shaping. The shoulders have taping for better fit over time. Dual side seams hold the garment's shape for longer. .: […]
10. Koi Fish
If you ask any koi lover what they want they will tell you another Koi! We can help you make that happen, We know that sometimes we can all be particular on what kind of Koi we want, ask our staff at Kodama how you can set up a Koi gift credit to apply towards any living jewel that they fall in love with.
What are Your Favorite Koi Fish Gift Ideas?
We would love to hear your perfect gift Ideas for koi, click this link to view all of our high quality koi fish supply products at Kodama Koi Supply and Kodama Koi Farm websites. Please also leave a comment with your favorite from these top gift ideas for koi lovers.